Taipei Tech Ranked No.1 as the Enterprises' Favorite Technical and Vocational University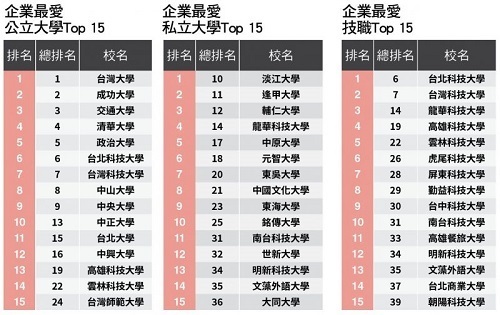 CHEERS Magazine released the result of 2021 "Enterprises' Most Favorite College Student" Survey, Taipei Tech ranked No.1 among all the Technical and Vocational Universities in Taiwan. The result of the survey this year indicated that the global pandemic had accelerated the digital transformation, and enterprises urgently need adaptable talents who have strong problem-solving abilities.
The survey listed 9 criteria and was sent to HR directors of 2,000 large businesses in Taiwan for them to evaluate their preferences, and to see what kind of talents are the most in need in the current job market. Taipei Tech performed the best in the "professional knowledge and skills", "innovative ability", "willingness to learn and adaptability", "digital application ability" and "stress resistance" categories. Taipei Tech students are the most in-demand in the high-tech industry, high-tech service industry, and manufacturing industry.
The survey also showed that under the impact of the pandemic, three key capabilities are what the corporate executives look for in their future recruitment: "problem-solving ability", "interpersonal communication skills", and "independent thinking". Academic performance is no longer the priority, adaptability is crucial in the uncertain and ever-changing job market.