Increased Mask Production Shows Individual Commitments Make Great Group Effort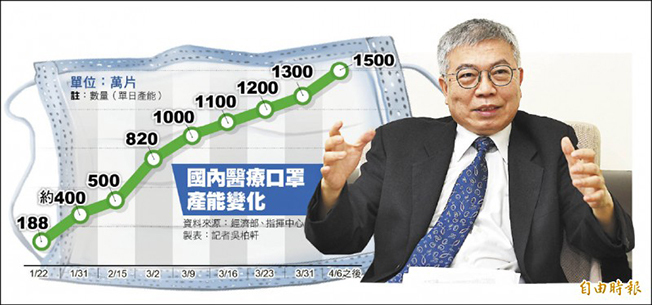 Taiwan responded quickly with prevention measures against COVID-19, and one of the most successful undertakings was increasing mask production to fifteen million masks per day within two months. The government took the lead in this effort, and many domestic suppliers immediately responded by increasing supply and building new supply facilities. One of the major figures behind the scenes in this effort is Jong-chin Shen, Minister of Economic Affairs and a Taipei Tech alumnus (electrical engineering, 1978). In a recent interview with The Liberty Times, Taipei Tech President Sea-Fue Wang said that Shen demonstrated one key value of Taiwan's vocational education: individual commitment makes for a great group effort. Wang also stressed the importance of industry-academia collaboration and international collaboration, especially in key industries such as artificial intelligence, as they connect Taiwan and the world.
The mask "national team," led by economic minister Shen, demonstrates that in union there is strength, according to Wang. Before COVID-19 broke out globally, under Shen's direction, mask manufacturers, retailers, and facility providers in Taiwan teamed up and increased the mask production from fewer than two million per day to fifteen million per day within two months.
Wang said that, through combined effort, different mask manufacturers were able to streamline raw materials, components, machines, and manpower and overcome company system differences within a short time. Experienced workers were able to pass on valuable knowledge to new recruits, and competing manufacturers were able to work together and act responsively in a coordinated manner because of Shen. The economic minister also worked closely on site with the manufacturers not only to show support but also to solve any problem immediately. According to Wang, Shen's actions exemplify the value of vocational education.
Wang further praised Shen for his grit and careful execution. These qualities were also important for the successful completion of tasks resulting from increased mask production, including integrating artificial intelligence and big data technology to distribute masks and to make the masks as widely available as possible.